Reading time: 1 hour
Would to God that every district in the land had its cottage hospital, where the suffering poor could receive the best medical skill and nursing.

Rev. Canon Bush, dedicatory service to St Barnabas Hospital, reported in the Western Morning News, 12 December 1888, p5.
St Barnabas ("Son of Consolation") Cottage Hospital and Convalescent Home on Higher Port View, Saltash, opened on May 13, 1889. The Western Daily Mercury announced that its main purpose was to receive "persons suffering from accident, non-contagious or non-infectious diseases, especially those convalescing from illness, who are discharged from hospitals and not sufficiently strong to resume their work" (April 27, 1889, p2).
The building of the hospital had been proposed and funded by Mrs Caroline Ley, in remembrance of her late husband, the Rev. Richard Ley. Running to a cost of £4,500, St Barnabas was certainly a state-of-the-art institution. The rooms were "well lighted and cheerful", with particular attention paid to "sanitary arrangements": every ward had its own toilet. There was a heating chamber, a kitchen, a dining room, a scullery, an ice-house, a laundry and a mortuary. The whole building was heated by hot water pipes, there was a good source of water from a well on the site, and a lift communicated with "the upper landing".
There were two male wards, two female wards, a childrens' ward, and a day room – a capacity of ten adults and three children. The Sisters had their own room which opened on to a verandah, and a separate bedroom. These Sisters could also be alerted to any ward by a system of "pneumatic" bells, and indeed had windows through which they could keep an eye on their patients. The east side of the hospital was given over to an "exceedingly pretty little chapel", and beside the in-house surgery and entrance lobby there was "a recess" in which an ambulance was stored, for use "at a moment's notice". The operating room was also located near the entrance lobby, enabling urgent procedures "to be taken there direct". (From the Western Morning News, December 12, 1888, p5.)
At this time, nursing was to be provided by the Wantage Sisterhood, an order of the Church of England established in 1848, in Oxfordshire. Below is the hospital that would have greeted them.
Of course, to be a patient at this new, voluntary hospital cost money. According to the League of Friends pamphlet on St Barnabas (1999), an annual subscription of one guinea allowed for admission for three weeks in any one year, at three shillings weekly. Patients were admitted on the payment of twelve shillings weekly – if recommended by a clergyman or medical man. In all cases, a Medical Certificate was necessary to show that the patient wasn't suffering from any infectious or contagious disease. Although beds would have obviously been made available for emergencies, clearly prolonged treatment at St Barnabas was beyond the means of many people: a farm labourer in the 1880s was estimated to earn, on average, only 15 shillings a week.
In practice, of course, things were very different. A former patient of St Barnabas felt moved to write to his local newspaper in 1897, stating that the hospital is
Open to all creeds and no creeds, and all religious denominations without distinction…and, does such great work for the sick and suffering poor…

"A Grateful and Former Patient", Western Morning News, June 10, 1897, p8
Of course, like any medical institution, the Sisters of St Barnabas were honour-bound to respond to an emergency, whether those in need had the requisite funds or not. One evening in 1903 Alfred Turpin, a drayman, whoa'd his horse and cart laden with barrels of ale to a stop at the top of the hill on Fore St, Saltash. He jumped off and knelt down to carry out some running maintenance to his vehicle, but the horse "went on". Turpin was knocked under the cart, "and two wheels passed over his back", fracturing his ribs. He was quickly conveyed to St Barnabas Hospital. The horse, in an absolute orgy of destruction, ran amok, careering into Silver St where it fell and knocked the cart flying, hitting over a lamp post, smashing a window shutter, and flooding the streets with ale. Alas, nothing could be done for Turpin. He died that night, in agony. (From Lake's Falmouth Packet, 15 August 1903, p3.)
The 1891 census captures the early make-up of St Barnabas Hospital. Besides Margaret Powles, the Sister-in-Charge, there were five other Sisters of Charity present, one nurse, and a servant. Only these last two would have been earning earning anything like a wage. There were five patients and three visitors. As you can see below, the Sisters, and their guests, truly were daughters of Empire, hailing from all corners of the globe.
In 1894, the Wantage Sisterhood was replaced by the Order of St Margaret's of East Grinstead, West Sussex. Among the Sisters of St Margaret who came to St Barnabas was Helen Phillipps-Treby: Sister Helen.
By 1896, Sister Helen was Head Nurse of St Barnabas Hospital. She soon took over the management.
She retired in 1951.
Though seldom recalled today, Sister Helen became the embodiment of St Barnabas Hospital. The span of her career covered some momentous changes in nursing and society, and the way nursing was viewed by this rapidly changing society. The story of Sister Helen is also the story of the early years of St Barnabas Hospital.
Like her fellow sisters from the Wantage Sisterhood, Helen Phillipps-Treby was also a daughter of Empire. She was born in 1866, in St Helier, Jersey. Her father, Major-General Paul Winsloe Phillipps-Treby, was born in Cornwall, at the family home of Landue House, near Launceston. The family had their own crest. His obituary in the Army and Navy Gazette of December 12, 1908 stated that, on his death at the age of 84, the Major-General had spent much of his 36 years of service abroad, docking in such exotic locations as Ceylon (Sri Lanka), Canada, Singapore, St Helena, and Hong Kong (p17). Until Helen entered her teens, the Major-General would have been on active duty overseas.
It's unclear as to what motivated Sister Helen to take the veil. When she was growing up in the 1870s, observes Monica Baly in Nursing and Social Change (Routledge, 1994), later marriages, a falling birth-rate, young men emigrating because of Empire, and economic depression produced a "pool" of middle-class spinsters who had nothing to look forward to but "idleness in the home" (p124). This context, allied to Florence Nightingale's reforms of nursing and the medical advances including those of Pasteur and Lister (p100-24), created a "new image of the hospital nurse" who was "associated with doctors, science, and cure" (p124). In short, the Victorian era made nursing respectable, it opened a path to the fulfilment of Christian duty, and it didn't involve competition with men.
Sister Helen wasn't, however, a nurse of Nightingale's new model army. As Sioban Nelson argues in Say Little, Do Much: Nurses, Nuns and Hospitals in the Nineteenth Century (Pennysylvania University Press, 2001), the "triumphant" story of Nightingale's reforms "obscures" the dedication of nursing nuns to hospital care. It was, states Nelson, the "vowed labor" of the nuns that "built so much of the health care system that we take for granted today" (p2-3). Furthermore, according to Nelson, in the nineteenth century "nursing innovators were all religious women", yet the work of vowed nurses came to be "ignored or trivialized, always depicted as a preparatory stage to real nursing" (p5). Secularisation, therefore, equalled "proper" nursing; the nursing nuns, of which Sister Helen was such a one, were pre-professional. Nelson's book seeks to rebut this stance, illustrating how nursing nuns were also in the vanguard of nineteenth century advances in hospital care, becoming not just nurses but managers, administrators, and negotiators in the public domain. Sister Helen was one of these nurses.
The Victorian age, with its social dislocation, poverty, immigration, and epidemics, "welcomed" nursing nuns (Nelson, p12). Thanks to the Catholic Emancipation Bill of 1829, Roman Catholics were again permitted a public life in England (Nelson, p56-7). By 1838, the first convent in England since the Reformation had opened, The Order of The Sisters of Mercy, in Bermondsey. Many more followed, including in 1855 the Sisters of Saint Margaret, in East Grinstead, Sussex. (The convent closed in 1970 and was given over to private homes.) Besides providing training for domestic service, the convent also gave tuition in nursing – to become a Sister of Charity. These disciplines helped to provide a "means for the church to integrate itself into a society that had formerly excluded Catholics" (Nelson, p153). And the Sisters of East Grinstead rapidly made themselves vital in battling the scourges of the day: in 1870 the Order provided staff for the stretched London hospitals to combat the smallpox epidemic. It was to this convent, for whatever reasons, Sister Helen came before 1891.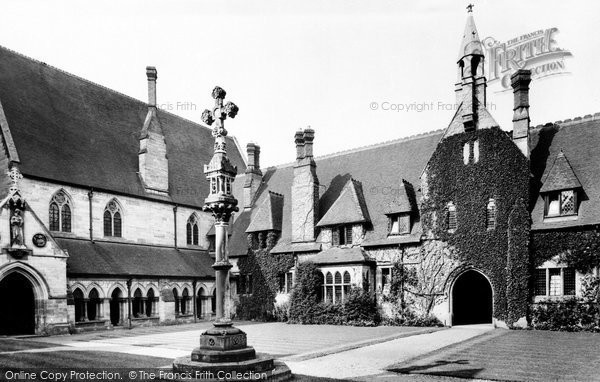 Maybe it had been an easy decision for her to make; maybe it was out of desperation. Either way, she was turning her back on a leisurely, middle-class life as the daughter of a well-off, decorated, and rather eminent, soldier. She would never marry, bear children, or earn a wage. She would have no independent or individual life of her own: all decisions regarding where she worked, with whom, and for whom, were dictated by the Superior at East Grinstead. Sister Helen's life, her religious life, would be formed by a pragmatic attention to the needs of those around her. It was to be a life of hardship, but this hardship would be turned, through her spiritual training, into "exercises in obedience and humility". Sister Helen was now on "God's mission" (Nelson, p1).
And she must have shown early promise. By 1891, aged 24, she was a Sister of Charity, along with several other student nurses, at Guy's Hospital in Southwark. Dating from the 1720s and recently expanded in the 1850s, this was a prestigious post for a young Sister. It was also something of a baptism of fire. Sister Helen would have been involved in treating victims of Russian Flu, which went on to kill over 125,000 people in the 1890s. Seeing as medical knowledge about the transmission and cure of such diseases was still in its infancy, remedies included Turkish baths and the inhalation of carbolic smoke balls.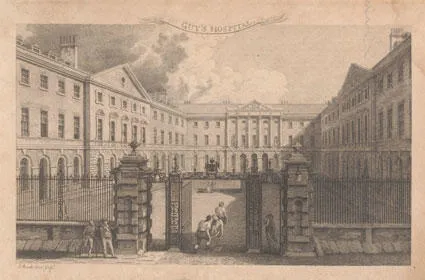 Sister Helen must have come to St Barnabas Hospital in 1894 as no green recruit. She was already an experienced nurse from a busy, sprawling metropolitan institution, who had seen and dealt with first-hand the ravages of an epidemic. Little surprise, then, that by 1901 at least, she was Head Nurse. By 1911, if not before, she was in charge of the overall operation of St Barnabas Hospital.
As Head Nurse, Sister Helen not only had to manage the entire nursing side of St Barnabas, but also its finances. Before the advent of the NHS, hospitals were provided by local governments and the administrators – or enforcers – of the Poor Law. The third variety of hospital in this era, of which St Barnabas was one, were the so-called "voluntary" hospitals, which relied on philanthropy and fund-raising for their upkeep and were generally located in more rural areas – generally speaking, medical care was better in a voluntary hospital and more medical training was practised in them. In the 1890s, voluntary hospitals provided 26% of hospital beds in England. Sister Helen had to report to the Board of Subscribers annually, on all matters financial as well as medical. For example, at the Annual Meeting of St Barnabas Hospital in 1931, Helen, recorded as the Sister-in-Charge and Honorary Secretary, presented detail on that financial year's intake of patients (for the record, a total of 129, mainly from the Saltash area), the number of major operations (seventeen), and be involved in the announcing of the accounts: St Barnabas had a credit balance of £186, but more subscribers and donations were "pleaded for". Obviously as a result of the Wall Street Crash and the Great Depression, donations had decreased from £80 to £31 (from the Cornish Guardian, April 2, 1931, p4).
Sister Helen's concerns were therefore fiscal, as well as spiritual.
Before 1914, the hospital witnessed several improvements, and the odd setback. The pamphlet compiled by the League of Friends on St Barnabas (1999) tells us that in 1896 and 1897 St Barnabas was forced to close for five weeks, owing to a water shortage: clearly the old well on the grounds was beginning to prove inadequate. The solution was provided by Saltash Town Council, who laid a permanent supply in November 1897. Though in its infancy, Sister Helen's Hospital was already gaining a reputation for two things that seemed to be a constant during her long tenure: excellent care, and shortage of funds. One patient wrote that the sisters'
…spare neither time nor trouble to make their patients' happy…by careful nursing endeavour…it is above all praise…this Hospital may receive a larger share of sympathy and support from the charitable and generous public…

"A Grateful and Former Patient", Western Morning News, June 10, 1897, p8
The above letter-writer stated that all donations should be sent to the Sister-in-Charge: Sister Helen. And perhaps this person's appeal reached the right ears. By 1912, notes the League of Friends pamphlet, building improvements had been made and a new operating theatre installed. In 1913, 94 patients were treated, nine operations were successfully carried out, and there were no deaths.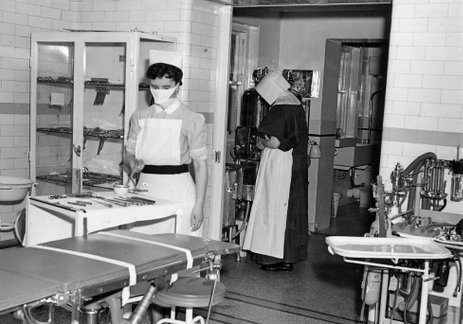 The installation of the new operating theatre at St Barnabas reflected the increasing demands on hospitals that people were beginning to make of them. Due to the rapidly improved techniques and amenities at the beginning of the twentieth century, societies were "less frightened of hospitals" than in previous eras. This new image, however, only gave rise to another issue: in the early 1900s, hospitals were already "complaining about the abuse of beds", and that the "problem of medicine being able to do more than it had resources for had begun" (Baly, Nursing and Social Change, p137). There were some patients the Sisters of St Barnabas could simply do little for, other than provide comfort. In 1902 an inmate of Bodmin Workhouse was sent there; he was described as being "consumptive". The effective treatment and cure of tuberculosis only became a reality after World War II, the causes of its transmission only previously vaguely understood. We can only conjecture if this patient was kept in isolation, and whether those caring for him took any preventive measures against infection (from the Cornwall and Devon Post, September 20, 1902, p5.)
The true revolution in nursing practice, and the role of hospitals and women in society, came about as a direct result of World War I, argues Monica Baly in Nursing and Social Change (p140-3). For the first time, women took on male occupations en masse, nurses (and nursing nuns) saw action on the front line, and the British Government took the first tentative steps toward bringing the country's several hospital systems under state control. The reasons behind this was a direct need for care of the wounded: the
…War Office tried to persuade individual hospitals to give up beds for war casualties, persuasion that had to be backed by considerable subsidy.

Monica Baly, Nursing and Social Change, p141
In short, the Government pumped money into hospitals in return for beds and treatment of wounded Tommies. Naturally, the traditionally cash-strapped hospitals feared the consequences of this sudden influx of riches drying up; the net result was the embryonic beginnings of a government-sponsored health service. As Head Sister of St Barnabas and holder of the hospital's purse strings, Sister Helen's institution would have benefited greatly from the new state of affairs.
But the money was hard-earned. As early as August 12, 1914, it was announced that the doors of St Barnabas would be "thrown open" to receive the wounded (Western Morning News, p3). The League of Friends pamphlet tells us that 646 soldiers were received at St Barnabas Hospital in the war years, plus civilian admissions. (It was also a Section Military Hospital for over a year.) Admissions before the outbreak of war, was, as we have seen, 94 patients in 1913. If these figures are accurate, then St Barnabas's average annual intake of patients between 1914 and 1918 was around 255. That's an increase of approximately 36%.
The numbers don't quantify the nature of the treatment required by the British soldiers, nor the unwanted and unlooked-for nature of the horrifying mental and physical injuries this unprecedented level of warfare wrought on those involved. Sister Helen and her staff may have had to treat relatively simple "Blighty Wounds", her surgeons could have performed amputations (the Sisters would have rehabilitated the amputees), and the Sisters would have had to comfort and sooth those blinded in gas attacks, or fathom how best to manage those diagnosed with what was then known as "battle fatigue" or "shell shock". The following images – none from St Barnabas – are harrowing, and are meant to portray the possible challenges faced by the mainly unpaid, voluntary team at the hospital.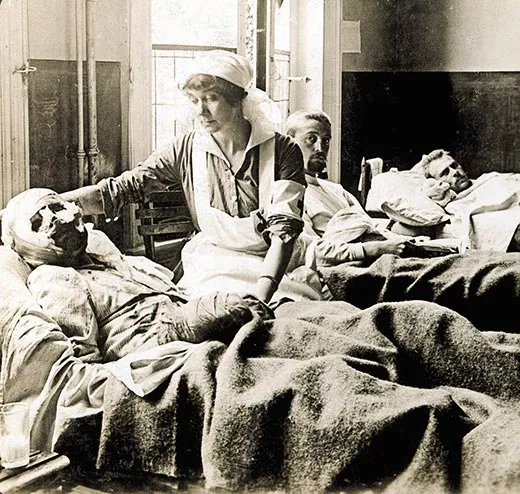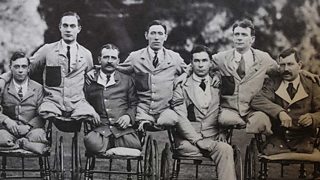 This massive increase in patients as a result of war, and the emancipation of women with the Representation of the People Act of 1918, led to a new infusion of women entering careers in nursing. Estimates from the 1901 census showed that, of the 67,000 women stating their occupations as a nurse or a midwife, only 25-30,000 of these were actually formally trained. By 1917, there was now 45,000 trained nurses in Britain. And the demographic was changing too. In 1901, 45% of these women were either married or widowed; by 1931, this figure is put at 12%. Reform and war made nursing almost the sole preserve of the young, single woman. (From Baly, Nursing and Social Change, p125, 140-2.)
But theory and training is one thing, practice is another. And who would have been better to provide all three than the experienced Sisters of St Barnabas? Sister Helen had seen Russian Flu first hand; one of her patients (possibly more than one) had TB. In 1904, there was an outbreak of typhoid in the St Germans district – sufferers were moved to St Barnabas (Royal Cornwall Gazette, 18 August 1904, p7). Soldiers from the Western Front would have presented a whole new chapter of learning on the job. And Sister Helen ensured St Barnabas had the means with which to move with the times. We do not have the original letters she must have written, the communications to local businesses and townspeople, the levels of organisation and commitment, the dialogues with ordinary townspeople, or the simple goodhearted donations the hospital received anon. But we do know they happened.
In 1893, as told in the League of Friends pamphlet, St Barnabas regularly received gifts of rabbits (though no mention is made of whose land they were snared on), and what must have been the prized present of a washing machine (manually operated, of course). In 1898, the Mayor of Saltash arranged a carnival for the town, the proceeds of which were to be donated to the hospital (Royal Cornwall Gazette, December 1, p7).
After 1918, the voluntary hospitals found themselves in financial difficulty. A fall in donations, coupled with increasing costs, resulted in a government grant of £1 million being proposed. Only half was ever delivered (Baly, Nursing and Social Change, p161). St Barnabas, and Sister Helen, had to find other ways to fill the coffers. In 1926, the vegetables presented at St Stephens District Show were all donated to St Barnabas (Cornish Guardian, September 24). A year later, the Board of St Germans Guardians granted the sum of £3 3s for the hospital's upkeep (Cornish Guardian, January 7, 1927, p14; the same 'paper reported the same amount granted in 1930 – January 30, p3).
"Oyez! Oyez!", advertised the Cornish Guardian of September 27, 1928. A jumble sale in aid of the hospital was to be held in Saltash, under the patronage of the Mayor and Mayoress, Mr and Mrs Venn (p8). In February 1930 Saltash Guildhall held a Valentine Dance, to raise money for more hospital beds. We get a flavour here of the fag end of the Roaring Twenties and the era of Big Band jazz. For the night, the Guildhall was decorated with fairy lights, Chinese lanterns, and flowers. Music was provided by the brilliantly named Miami Band. One imagines none of the members were from Miami. Another ball aimed at improving the finances of the hospital was held in 1931; this time, however, the tunes were courtesy of Fullbrook's Royal Hotel Dance Band. (Cornish Guardian, February 20, 1930, p4, and February 2, 1931, p8.)
Burraton Vegetable Show donated all its produce in 1930, as did the show at St Stephens in 1931 (Cornish Guardian, August 28, 1930, p10, and September 3, 1931, p5). At the St Barnabas AGM of 1931 Sister Helen "expressed gratitude" for all the voluntary help received – but as always more was required (Cornish Guardian, April 2, p4). And the help kept coming. In October 1939 a lady of Saltash left £100 in her will to St Barnabas; that same year x-ray equipment was anonymously donated (Cornish Guardian, October 5, p9, Western Morning News, April 21, p4).
Sister Helen was the indefatigable epicentre of all this philanthropic activity. She, and her Sisters, went from house to house in Saltash, begging, in between regular hospital duties. She developed, and of course worked in, the hospital garden, wielding hoe and spade, in order to put vegetables on the table. Patients' meals were personally attended to by her in the kitchen. Whatever spare time she might have had was dedicated "to making cakes and preserves for the benefit of the hospital funds" (Western Morning News, August 19, 1939, p10). Lest we forget, Sister Helen ran a hospital too. A hospital that, under her management, was forever modernising and expanding.
In 1923, writes the League of Friends, electricity was installed, at a cost of £450. In 1927 an adjoining house was purchased – this annex, the Claremont Wing, was used as a maternity ward, with a separate ward for the chronically sick. In 1931, a new luxury was added: the wireless. Each bed at St Barnabas Hospital now came equipped with its own earphones (Cornish Guardian, April 2, p4).
On the eve of World War II, Sister Helen reported a total number of patient admissions of 361, testament to the expansions, reforms, and new equipment (Western Morning News, April 21, 1939, p4).
There were setbacks, of course. Marion Crooke had been a patient at St Barnabas in 1922. After her recovery, she continued to live at the hospital, mainly digging and weeding alongside Sister Helen in the garden, where she gained a reputation as a "hard worker". One morning in December 1931, Sister Helen asked Crooke to reduce the number of flowers she was growing – there had been complaints in Saltash that the hospital had been producing "too many". Crooke flew into a rage, threatened to leave St Barnabas, and stormed off. The next morning, Crooke was discovered by a Saltash resident, lying in a field, with a service revolver close by. She had shot herself. The coroner returned a verdict of "Suicide by shooting whilst of an unsound mind." "Much sympathy" was extended to Sister Helen and her staff (Cornish Guardian, December 10, 1931, p5). Sister Helen's reaction to the violent death of a lady she had known, treated, and looked after for the best part of ten years is unknown.
On July 18, 1938, Christine Petherick, a "young hospital maid" of 26, began her first shift at St Barnabas Hospital. She had, commented Sister Helen, unpacked all her clothes and arranged her room as though she had intended to settle down and stay. Sister Helen had also been impressed by the girl's personal appearance, but had heard that Petherick "suffered from a slight nervous affliction", and was prone to losing her memory. On July 19, Petherick disappeared, launching a search for her that extended over Cornwall and into Devon. On August 1, she was found, safe but malnourished, in a chicken shed in Looe, where she had been for "two or three days". Where her wanderings had taken her in the meantime are a mystery. (From the Western Morning News, 1 August 1938, p5, and August 2, p6).
The nature of the institution of which Sister Helen was a member – The Order of East Grinstead – and her financial management occasionally fell under scrutiny as well. At the hospital's 1926 AGM, in front of the Mayor of Saltash, she rebutted the beliefs amongst some that St Margaret's of East Grinstead reaped "pecuniary advantage" from St Barnabas. People were accusing the nuns of siphoning off the hospital's funds, and that the books were being cooked. You can almost hear the sharp, emphatic tone of Sister Helen's voice when she said that
This is not so.

Sister Helen, in the Western Morning News, February 18, 1926, p3
She went on to demonstrate the hospital's financial state and that, far from beliefs to the contrary, the Mother Superintendent of East Grinstead actually sent £25 annually to the parish Church fund, in recognition of the local vicar's work at St Barnabas. Sister Helen, in this instance, is truly a public figure, defending her hospital, her order, the people she works for, and the people who work for her. She was also defending her religion, which may have been more of a battle than is perhaps realised now. It was noted in 1939 that the hospital had been "fighting against an undercurrent of prejudice" during its earlier years – prejudice against the Catholic religion. How many doors had been slammed in the Sisters' faces on one of their countless begging excursions, how many insults? How many letters ignored? (From the Western Morning News, 19 August, 1939, p10.)
1939 was the year of the greatest setback for St Barnabas, and for the town of Saltash in general. And it wasn't the beginning of the war.
Saltash residents are faced with a grave situation concerning St Barnabas Hospital…

Sisterhood "Bombshell" for Saltash, Western Morning News, August 19, 1939, p7
They certainly were. The Mother Superior of the Order of East Grinstead had taken the decision to "withdraw the Matron, Sister Helen, and her three assistants". They were to leave on New Year's Day, 1940. Three weeks before the news was made public, a letter arrived from the Mother Superior which was read by the three medics concerned with the hospital, stating that the Sisters would be withdrawn and that, in effect, the trusteeship of St Barnabas would pass into new hands. The medics wrote at once to the Mother Superior, protesting her decision, but the reply was non-negotiable: East Grinstead, and Sister Helen, were pulling out. This, commented one medic, was nothing short of a "bombshell".
At a public meeting presided over by the Mayor, it was decided that he should deal with the matter in conference with representatives of the Saltash community, in order to address the problem of the transfer of the trusteeship. The Sisterhood of Epiphany in Truro had been approached as possible replacements, but this had been "declined". There was even talk of a compromise, with St Barnabas being run by a board of Saltash residents and a member of the Sisterhood of Epiphany; if this were to happen, the Sisters of Truro would be on board. Suddenly, this began to look like an attractive option, until a member of the public spoke from the floor: Col. W. P. Drury reminded all present "of what we are losing".
Reading the 'papers, it easy to see that Drury must have given a hell of a speech. If Sister Helen and her colleagues were to leave, they were losing forty-five out of the fifty years of the hospital's life. They were losing Sister Helen, a lady from a family "whose name is well-known in the West of England", who was therefore able to command "a certain amount of influential interest". Drury sketched the arduous labours of the Sisters, such as the begging, the fundraising, the gardening, and, above all, the nursing, all of which was "unpaid, of course".
By their wonderful serenity, patience and devoted lives, the Sisters have won the admiration and gratitude of the community, and Saltash has at last realized that it has in its midst a hospital unique, because of a certain atmosphere it possesses…

Col. Drury, Western Morning News, August 19, 1939, p10
Drury attributed this atmosphere, indefinable but appreciated by all who were a patient at St Barnabas, to Sister Helen. Such was her selflessness, noted Drury, that even so she had been informed by her Superior of her departure eleven months before the announcement was made public, she had been sworn to secrecy, and had obviously kept this promise. Drury stated that the proposed, compromised, and what looks like, in hindsight, cobbled-together trusteeship, would mean losing that "loving personal touch for something far more formal". Just as, in Drury's opinion, St Barnabas was reaching the peak of its "efficiency and prosperity", the whole situation was to be arbitrarily "uprooted".
Drury went on to pan the decision of the East Grinstead Superior. No member of an Order "questions" a decision made by the head of that Order, yet, Drury added, "it is a cruel" rule, reminiscent "of the Middle Ages", carried out in a "high-handed manner". (From the Western Morning News, August 19, 1939, p7, 10.)
What Sister Helen made of all this is anyone's guess. How she was expected to react is blithely set out in the writings of an Abbott from Dublin in 1967:
…if, at the request of her religious superior, a Sister is sent from one area of the country to another, she can do so immediately. There is no house to sell, no family members to consider, and no concerns about whether it is the right place for her to be. This, in turn, leaves her free to undertake the work or activity for which she was sent, without guilt feelings for those left behind and for what might have been.

Quoted in "Daughter of Charity", by Celeste Bowe, International History of Nursing Journal, 2001, 6(2): 75-9
Now, that's an easy thing to read; it's pretty easy for me to type. But it would take the stoniest of hearts to turn your back on a place where you have lived and worked, ceaselessly, for nearly fifty years, without a twinge of regret. Through no choice of your own, the hospital you took over, extended, modernised, and ran in your own image, you would never see again. Her fellow Sisters of Charity, with whom she had toiled for forty years, would be leaving too, but not with her. That would have been one of the hardest goodbyes. Sister Helen must have known that, sooner or later, she would have to retire, and leave St Barnabas. But not this way. The news, I feel certain, must have hurt. Perhaps Col. Drury was right to describe the Grinstead Superior's decision as a hangover from the Middle Ages.
Or maybe I'm being unfair. The quote above says the Sister was expected to leave her post immediately. At least Sister Helen's Superior gave her eleven months to come to terms with the prospect, a prospect she couldn't – and didn't – share with anyone.
But, nothing happened. "No Developments Yet at Saltash" stated the Western Morning News of August 26, 1939. The reasons given were simply this: "Owing to the crisis…" (p13). There certainly was a crisis. News of the Molotov-Ribbentrop Pact had broke on the 25th, and Germany was to invade Poland seven days later. Britain's government, whether they liked it or not, had known war was coming for some time. In 1938, around the time of the Anschluss, the Committee for Civil Defence estimated 67,000 nurses were needed for First Aid posts; the military estimated they needed 5,000 alone. They only had a thousand. The resulting mass recruitment programme, that continued throughout the war, diluted the service with untrained staff and cut nursing levels in civilian hospitals. Allied to this, hospitals were encouraged to discharge non-military patients in anticipation of the numbers of wounded and evacuate them to rural areas (Baly, Nursing and Social Change, p169-70). Somewhere, in this organised chaos, a decision was taken, or deferred: Sister Helen and her colleagues had better stay at St Barnabas.
As a result of the war, the Government finally had a "new role as an employer of nurses" (Baly, Nursing and Social Change, p172): all nurses' wages were reimbursed to the hospitals by the Government. By 1941, there was 80,000 nursing staff in England and Wales, all under the remit of the Division of Nursing, which had been created at the Ministry of Health in that year. The Nurses' Act of 1943 inaugurated a professional code of conduct, a pay scale, a regulation of working hours, holidays and sick pay (Baly, Nursing and Social Change, p168-73). The more "formal" approach of how hospitals were run, and how their employees were treated, an approach Col. Drury cautioned against regarding St Barnabas in 1939, was rapidly becoming a reality. World War II heralded the birth of the NHS.
All this didn't make work at St Barnabas any easier. Throughout the war, the Western Morning News is littered with job advertisements for the hospital, most of them required "immediately" (December 5, 1940, p4). As before 1939, volunteers helped take up the slack, such as Elizabeth Pearce, from Forder, who went to St Barnabas to help because
…they were short staffed…the camp at Wearde was full of military wounded…When Plymouth was bombed it was full. One day we hadn't slept for nights because of the bombs so my father took the lorry with blankets and pillows to find somewhere quiet. We drove out to a wood a few miles away and slept out under the trees…

Elizabeth May Pearce, Kresen Kernow, ref. AV1/252
Even then, Elizabeth's slumbers were interrupted by yet another raid. The Plymouth Blitz has been well documented, but nearby Saltash suffered as well (see the Western Morning News, May 22, 1941, p1). Mrs E. Halford, one of many residents bombed out of their homes, showed some bulldog spirit for the newspapers. With her eye bandaged and fist "upheld in an attitude of fiery defiance", she expressed a firm desire to "get hold of Hitler for five minutes" (Western Morning News, May 9, 1941, p2). Fire crews were so desperate for help at night that even groups of Boy Scouts were drafted in to help – the lads of the 2nd Saltash receiving a King's Award for their bravery. A man previously placarded by the military as a conscientious objector was on duty with the brigades as well; the officer who had actually placarded him, on discovering this, was moved write to the man, begging forgiveness. (From the Cornish Guardian, August 28, 1941, p6.)
Not everyone contributed positively to Saltash's Home Front, however. One evacuee from London stole money from the house at which he had been billeted, and attempted to return home, saying he would "rather be bombed" than live in the country (Western Morning News, June 26, 1941, p4).
The night of 28-29 April 1941 was the worst night for Saltash. High explosives and incendiaries, targeting the Royal Albert Bridge and surrounding areas, were dropped on the town, killing six firefighters and nine civilians. Fire brigades from all over Cornwall – even as far west as Penzance – were called in to assist. Fore Street was completely ablaze. Half the town was without water. Forty houses were destroyed, and many shops and businesses. In some areas the fires were still burning a day later.
(Earlier that month, six firefighters from Saltash had also been killed in Plymouth.)
And through it all, St Barnabas Hospital provided care, with bomb victims, civilians, and military wounded receiving treatment (Western Morning News, May 2, 1941, p5, and July 20, 1942, p4). Yet still the problems of funding and staff remained. In January 1947 the first dance since 1939 was held to raise money for the hospital (Western Morning News, January 25, p2). In 1948, probationer nurses were desperately needed, with the threat of wards having to close. Of course, now, a definite salary could be offered to applicants: £50/annum (Cornish Guardian, August 26, p2).
In 1949, the 55 years continuous service of Sister Helen was formally acknowledged in a presentation ceremony at the hospital. One of the dignitaries was amazed to note that, in the 60 or so years of St Barnabas' existence, it had been run in practically all that time by one woman.
The advent of the NHS had done little to change the nature of the regime at the hospital:
But it is certain that unless the spirit of voluntary service, well represented by Sister Helen, is continued, the Service will not do what we want it to do.

Mr H. W. Woollcombe, Chair, Plymouth, South Devon, and East Cornwall General Hospital Management Committee, Western Morning News, November 2, 1949, p3
In effect, the embryonic NHS needed people like Sister Helen, which is ironic, considering how the Vatican of the period had been hardening its stance over women in active roles. The Sisters of Charity were about to move "out of the professional limelight" (Nelson, Say Little, Do Much, p162). The Sisters of St Barnabas' days were numbered.
And even Sister Helen could not go on forever. On her retirement in 1951, at the age of 85, she had seen the role of nursing evolve into a government-sponsored career with a regular, fixed wage, for young women. When she had begun, women weren't even allowed to vote and the nursing vocation was in its infancy. St Barnabas Hospital was now funded by a local authority and not reliant on handouts, volunteers, and begging missions. Medical care, thanks to the NHS, was now free for all, and not just mainly for people with a decent income. The building itself, once without electricity or running water, had been modernised and extended to include a maternity ward and operating theatre. It grew its own produce. Sister Helen's hospital had received over 8,000 patients, according to her obituary, through two epoch-making world wars, a Depression, and the formation of the modern welfare state. The hospital she had helped create was renowned throughout the community for its level of care and professionalism.
And Sister Helen never received a penny.
Sister Helen died on October 22, 1958. She was 91. Her obituary in the Cornish Guardian of October 30 was three short paragraphs, on page two.
St Barnabas Hospital stopped receiving patients in 2017, though outpatient clinics and District Nurses still operate from the site.
With special thanks to Hayley Hillman, Bruce Hunt of Saltash Heritage, and Mary Shears of the League of Friends